Coaching Team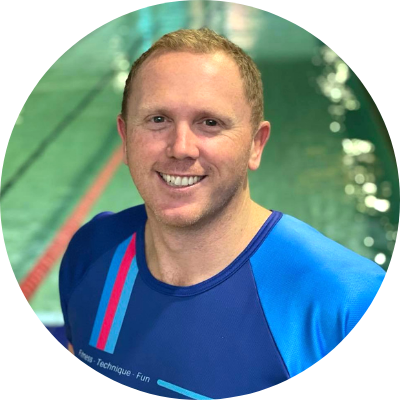 Dan Feisst - Head Coach / Owner
Dan has been swimming all his life, both competitively and recreationally.
Dan has been a specialist swim coach for over 20 years, working with swimmers at all levels from beginners to national elite. Having been awarded numerous NZ Swimming awards for coaching including National Age Group coach from 2003-2008 and again in 2016.
A technical coaching expert in all four key swimming strokes (and for pool and open water), Dan focuses on getting swimmers to understand and correct what they are doing in the water; working towards more efficient/effective techniques (and ultimately better performances on race day). (And yes, that means breaking our stroke and body position down and using targeted drills to retrain).
Progressively, Dan realised his passion was helping the everyday swimmer, people like yourself, so once the opportunity came up to take on the squad, and all the stars aligned, here we are today!
Along with swim coaching, he also marketsblueseventy in New Zealand and is a partner in the North Shore Beach Series and Swim T3 – everything he does has swimming at its heart.
Jillian Walker - Coach
Jillian comes from a vast background of swimming competitively and swim coaching. Currently Jillian is heavily involved in the Omaha Surf Club both as an active competitor and coach.
Jillian takes our Ladies squads and has an uncanny ability to understand multiple accents…and sorting those wayward swim strokes
Merle Maud - Coach
Before moving to Auckland, I founded Swim Smooth squads in Dubai and Singapore providing, video analysis, private coaching, and an improving beginners program. During this time, I have coached swimmers preparing for their first open water event through Ironman distances to Channel Crossings and Rottenest Island swims.
Together with being a Smooth Swim and Endure IQ coach, I have well-rounded experience in endurance and triathlon coaching. I am excited to bring this experience to the poolside to ensure swimmers are ready for their specific event.
The most important thing for me is helping motivate and coach athletes to achieve their goals. Having completed over 400 video analysis throughout my career, I've had the opportunity to work with a wide variety of abilities. Each swimmer has unique challenges, and I believe that the best results come by coaching the athlete as an individual and not a stroke.
I love life on the pool deck and meeting amazing people, and I can't wait to be part of your journey towards new goals.
Coaching Qualifications:
Swim Smooth Certified Coach
Endure IQ triathlon coach
ITU Level 1 Triathlon coach
Tri NZ Foundation Coach
ASA Swimming teacher Level 2
AUT Graduate Diploma in Sport and Exercise (ongoing)
Kate Godfrey - Coach
A product of Dunedin's great swimming legacy, Kate has represented NZ at the Youth Commonwealth Games and continues to swim competitively in open water competitions across the country. Now has just completed her Doctorate at Auckland University – Kate mixes her ability to challenge and develop our technique along with applying her neuroscience skills!
Lynley - Comms
Every team needs someone to keep the team in line, answer all your questions and contribute to the smooth running of the ship. Lynley is an experienced marketer and has swum with the squad for years… and is a seasoned age group triathlete (loves the long distance fun).
For any questions, she will sort the answers (and is also responsible for keeping us up to date with latest squad news)
Rob Dallimore - Coach (cover)
As a Triathlon New Zealand accredited coach has been helping athletes since 2010. A Lydiard accredited run coach with a background of Sports Medicine, initially being a NZ Registered Sports Podiatrist having worked in this field for over 10 years before deciding to lead his career down the coaching path. (Rob runs the successful Foot Traffic triathlon coaching team). Rob has raced successfully as an Age Grouper at all distances of triathlon and have completed 14th Ironman, qualifying for 3 Ironman World Championships in Kona, represented NZ at the ITU Long Course and Standard Course World Championships, and placed several times in NZ Age Group Triathlon and Duathlon Championships and raced the Multisport World Championships.